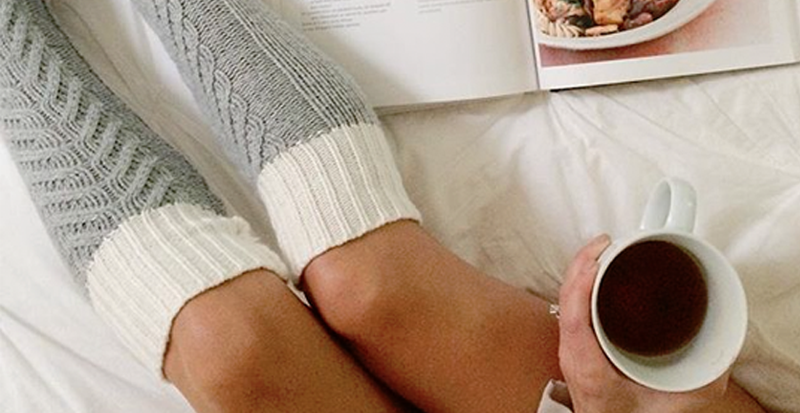 Since we know the best time to get stuff done is once the madness of the day dies down and the kids go to sleep (amen!), we've rounded up 5 cozy socks and their cute wintery mug counterparts so you can get comfy and get those things done… in bed, right where you want to be.  
If you're without child, these combos will make you want to spend some quality time wrapped up in bed with a hot cuppa.
Let the slow mornings + epic nights in begin, snuggle up to these bad boys and cross a few things off your list (like putting your moments into print!).
1. For a good snuggle
These Patchwork socks from Anthropologie
+ this Valentine Teeny Heart mug from West Elm
Seasonally appropriate too!
2. For a modern lounge
The Anonymous Ism Fair Isle sock from Club Monaco
+ this Black dip coffee mug from CB2
Love the modern simplicity of this stoneware, and when you're done sipping your coffee, no need to change your socks.  These are definitely outdoor-friendly.
3. For a ray of sunshine
These Pineapple socks from Simons
+ this Soleil mug from Le Creuset
When it's chilly outside, there's no reason why you can't bring the sunshine in.
4. For a happy morning
These Crochet Button Cuff Knee-High sock from Urban Outfitters
+ the cutest Atelier Stella mug from West Elm
How can you not wake-up on the right side of the bed when this friendly little mug is smiling back at you?
5. For rustic living
These fuschia vintage folk socks from Simons
+ this enamel coffee mug from ZONE
Woolly socks + rustic mug for the win.  This combo brings me back to cabin living.
[top cover image by @melissapicken]
Get cozy, clear your mind and print your photos with Impressed app: