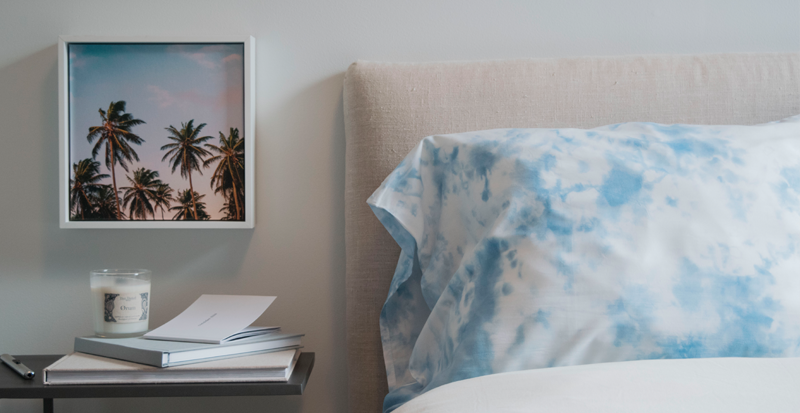 If we spend 1/3 of our lives in bed, shouldn't we ensure that time is happy, relaxing and restorative?  It would only make sense to style our bedside tables with the things that would make us smile as we get ready for bed at night and as we wake in the morning.
If you're a globetrotter at heart, like us, and always planning your next adventure, consider our 4 elements to creating a bedside table for dreams of wanderlust (and scroll to the bottom of this post to enter to win the look!).
Our essentials to styling your bedside table for happy travel dreams
1. Travel reads (fiction or non-fiction)
One of the most exciting things about traveling is the pre-planning phase.  We, for one, love adventuring so much that we're not in our happy place unless there is a book of regional cuisine, travel memoir or guide of our next destination on our nightstand at all times.  (Caution: reading through travel guides may cause extreme excitement before bedtime, so maybe stick to fictional stories if you're winding down to hit the hay)
In need of inspiration? Some best-selling wanderlust reads.
2. Scent or souvenir of your adventures
They say the sense of smell can evoke the strongest memories.  We set the mood with this candle we were gifted by a special Swedish friend while on a visit this past summer.  The scent helps to de-stress and brings us back to the beautiful time we all had together in Orum…  one of those perfect vacation days!
3. Wall art that is reminiscent of a place you've been or a place you dream of visiting
We thought we'd adorn our bedside wall with a custom canvas of palm trees at sunset because it's a scene we never have access to, here in Canada.  That way, we can sleep easy to the soothing thought of oceanside palms.
4. Soft, comfortable bedding
With any sleep situation, bedding is key, starting with what you lay your head on.  We're fans of these uber soft, hand-dyed pillowcases from SUKU.  Made of 100% bamboo, these also happen to be naturally hypoallergenic.  Bonus: they come with corresponding sac, making them a perfect travel companion.
For more simple bedroom rules, we find Lark & Linen's post to be super helpful.
Here's to keeping your space dreamy!