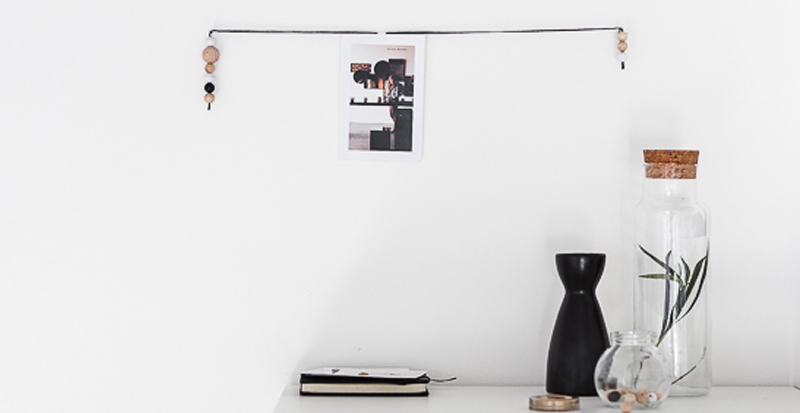 Weekend project: make a cool string display to turn your photo prints into easy wall art
This simple string wall art DIY is ideal for bringing those photo prints and life's meaningful mementos of yours out of hiding and into your everyday, right where you can see them.
Photos by this month's feature customer Agata Dimmich, project adapted from her blog: Passionshake.  Check out her Life Well Lived interview here.
What you'll need:
a piece of thick string (the length is dependant on how long you'd like for your display to be)
variety of wooden beads
paint to match your string and decor (we went with black and white)
2 hooks or nails
hammer
Steps to making your own string display:
Step 1
Decide on a spot for your wall art display, as well as how many prints + mementos you'd like to include in order to determine the measurement of your string.
Step 2
Prep and paint your wooden beads.
Step 3
Once your beads are dry, pass them through your string.  Play around with composition by alternating small, large, black, white, natural beads.
Step 4
Affix your 2 hooks or nails to the wall at the same height.  Wrap each end of the string until the it is straight and tight.
Step 5
Your string display is ready to go!  Attach your favorite prints and memories to it using clips, or colorful washi tape.
Style your walls with a few Impressed photo prints and your space update is complete.
Make photo prints on your iPhone.
Make photo prints on your Android.